Back in 2017, HubSpot added a content management system to their growing suite of marketing and sales tools, to compete with the likes of WordPress. A new version of the CMS, launched in April 2020, has really taken the HubSpot CMS to the next level, improving usability and the inclusion of serverless functions for website projects. We'd have no hesitation in saying that it's now our CMS of choice for building websites.

CMS Hub is a user-friendly content management system with an intuitive drag-and-drop layout that means marketers can get involved with building pages, playing a larger role in the development of a website that drives revenue growth.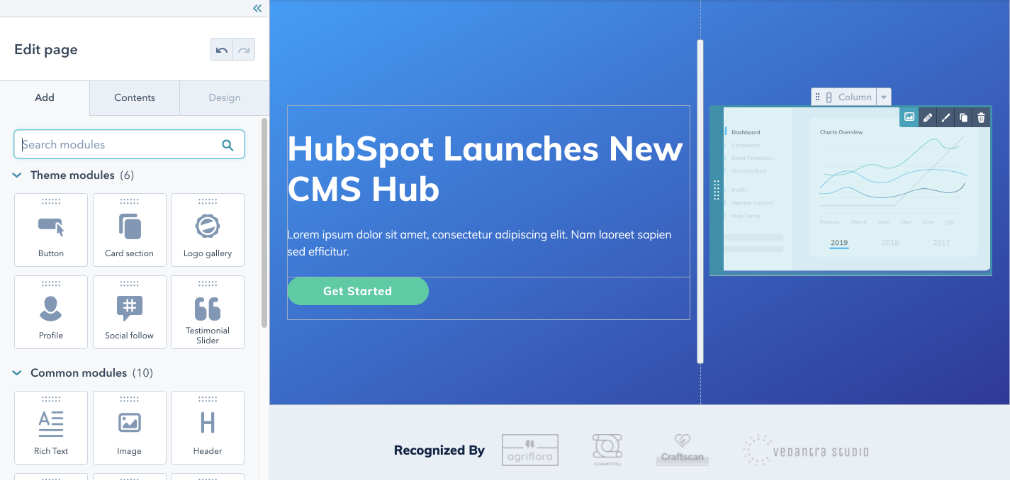 The CMS Hub page editor
This drag-and-drop feature places it alongside WIX and Squarespace in terms of usability, but with a lot more room for customisation and better integration with marketing data. CMS Hub brings the best of 'easy to use CMSs' like WIX with 'highly customisable' CMSs like Drupal; you can build highly customisable websites that marketers can then easily edit and expand.
Why do I still need a proper developer?
Despite this usability, you'll still need to rely on an experienced web developer to build a great website on the CMS. We haven't yet reached a point where we can say 'bye-bye' to the likes of CSS files and JavaScript (although these are minimised on the new CMS hub).
Some things - like editing themes - are still pretty difficult to do and require a knowledge of website development. The drag-and-drop editor is great for making changes on individual pages. But if you use it to make changes to your website as a whole, sometimes these changes can be applied inconsistently over different types of pages on your website.
Using an experienced HubSpot web developer has a further advantage over trying to do it all in-house, even if you already have a web-dev team. Like all CMSs, developers who use HubSpot CMS every day know how to work around its minor foibles and use the CMS's features to create sites that really drive growth.
What's more, to build a winning website on HubSpot, it helps to be experienced with front-end JavaScript frameworks like React and Vue. This is because CMS Hub is designed with websites of the future in mind that will deliver an interactive, 'app-like' experience. Not all developers have these skills in their repertoire.
HubSpot developers work closely with experienced marketers on a daily basis. This means they are well-versed in the CMS and are also aware of marketing best practices. They build great sites that reflect this synthesis.
Not a developer? Check our top tools for marketers in CMS Hub
Developers can help you build a website that drives growth
At Karman Digital, our developers build websites using an agile approach known as Growth Driven Design - GDD for short.
This approach means that we never design websites to a point where they are 'done' - in the sense that they become 'finished' websites and there's no point - or option - to enhance them.
Rather, we make websites that can be constantly refined to improve the user journey and to iron out friction throughout. We favour constant evolution over a static website.
Our websites can be easily tweaked by marketers to ensure that they keep driving growth while keeping our team of developers on hand to assist with larger changes.
HubSpot CMS is the perfect CMS for this type of web design because data collection from the CRM is totally integrated in the CMS. You can collect this data and use it to identify how your website could be improved. The usability of CMS Hub means marketers can make these small changes without going through a web developer.
In the words of Rachel Sheldon from HubSpot:
"The combination of themes, modules, and drag and drop Hub tags is a powerful toolkit for developers to optimise editor experiences. The secret sauce is communication. When developers take on a consulting role and work with marketers to design editing experiences, the full power of the HubSpot CMS makes both parties more efficient and successful."
This quote really summarises the power of web developers when building sites on CMS Hub.
All in all, you can get the best out of HubSpot CMS when you combine the technical knowledge of developers with the creativity of marketers.
Whilst marketers can play a larger role with this CMS, there is still a need for proper web developers. Naturally, web developers who have experience building revenue driving websites will deliver the most value.