Award-winning HubSpot Training agency
Are you making the most of this powerful suite of tools?
As well as being a HubSpot Diamond partner agency, we're also a certified training agency. We know what it takes for a business to fully utilise HubSpot and we want to pass that knowledge on to you.
We provide accredited workshops and training sessions; covering everything from HubSpot inbound marketing strategy to software & sales enablement. Our HubSpot training sessions are designed to empower you and your team to take control of HubSpot to meet your business goals.
Whether you want to understand the intricacies of the platform's technical and strategic facilities or just need a hand getting started, our expert HubSpot certified trainers are here to help.
Training is available as coaching for small teams and individuals, long term consultancy or as a bespoke package designed to fit your needs and your needs only.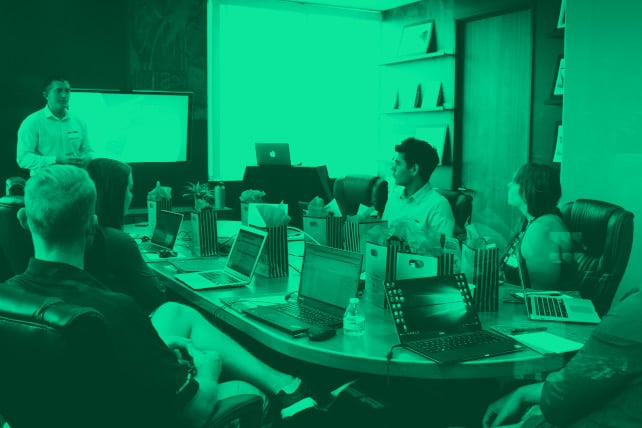 0
of employees report that they don't have mastery of the skills needed to do their jobs (HBR)
Training topics we cover
Whatever kind of functionality your team needs to get a handle on,
we can help.
These are often good places to start:
Marketing
Inbound marketing theory

Introduction to HubSpot marketing tools

Creating emails in HubSpot

Creating pages in HubSpot

Using the lead generation tools

Using the social media tools

Using workflows


Marketing reporting
Sales
Inbound sales theory

Using the CRM system and its tools

Creating data fields

Optimising HubSpot Sales tools

Deals and pipeline management

Activity management

Sales automation


Sales reporting
Let's get you started
Ready to learn?
We'll set you up with a no obligation call with one of our certified HubSpot experts.

The people are great and I see them as an extension to our team.
It's great to bounce ideas off of people who live and breathe marketing all day long.
It's good to have companies like Karman that you can take into whatever role you're doing and know you can rely on them.
It wasn't just the quickest possible solution, it was the best solution to each problem that we had.
I hate working with agencies unless they're really good. And I keep them forever if they are.
Something I quite like about you guys is you don't really bother me at all with unfinished work. What I'll receive is some answers or some work. Life is too short for that kind of back and forth.
From an optimisation point of view, it's obviously really frictionless, the way that you have designed the pages and how they're working.
They were awesome all the way through with both the training and delivery.
The training was fantastic and very comprehensive. They make a real point of giving us the tools to do our own reports and set up workflows.
Karman Digital has realised our digital transformation goals and amplified the success of our business. Working with them on our service team, as well as our sales process, we've gained a great deal of insight into our clients' needs and how best to help them.
Our customer support team feels more streamlined, is better able to answer queries and aren't inundated by frequently asked questions thanks to the Knowledge Base.
If you are looking for ways to enable scalability without sacrificing quality, Karman Digital and HubSpot are a winning combination.
If you are looking for ways to enable scalability without sacrificing quality, Karman Digital and HubSpot are a winning combination.
The team felt like an extension of our own in-house team, and were able to work really well with other agencies when we needed it, including our previous web agency - not always a given.
The site we have now gives us a great platform to develop further from. HubSpot is incredibly easy to use and the custom modules we had developed have made our lives as a marketing team much easier. Thank you and here's to phase 2!
We were really pleased with how they took the time to review and respond to our brief and felt confident that they understood our need to create a new website which reflected our new brand and the value we deliver to our customers.
Throughout the project, the development team could not have done enough for us to ensure that they produced a website which was easy for us to edit, update and evolve in the future.
The new site has had a positive impact on employer brand too, with the design being mentioned by multiple candidates as something that presented us as a professional business and drew them to apply to jobs with us.
We found the team easy to work with, with clear timelines. We like to move quickly and give regular feedback, which we were able to do. The team were very receptive to our feedback and understood what we were trying to achieve. They would listen to out input and ideas, whilst also providing value expertise and recommendations.

Let's start your HubSpot journey