Our Work:
Cambridge Spark
Cambridge Spark delivers online customer-focussed development programmes, enabling organisations to achieve their business goals by educating their workforce in Data Science & Artificial Intelligence.
Having an engaging website that clearly presented Cambridge Spark as the go-to online learning provider of choice for data science was top of the agenda, and formed a vital part of the ambitious growth plans the organisation had planned.

We've had good feedback from clients that the new website reflected what we offer and accurately fitted our brand.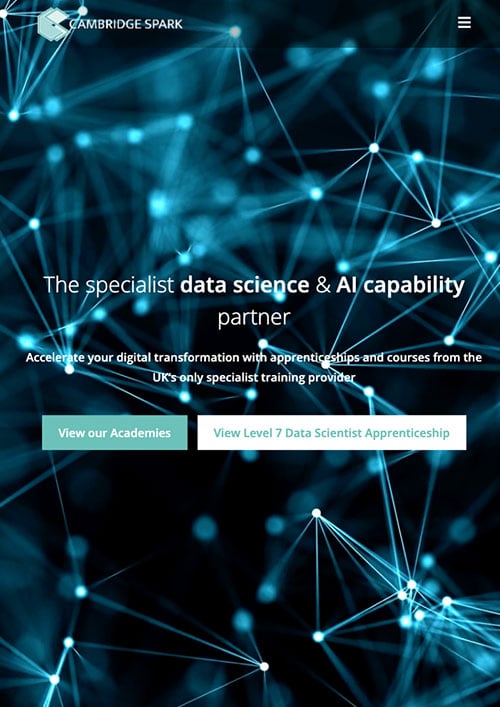 Adding clarity and purpose
The existing website didn't accurately present the Cambridge Spark USP; the brand aesthetics and messaging didn't reflect their market leading proposition and the user journey was disjointed and didn't serve information in an informative, clear way.
The pathways to various courses and accreditations felt hard to navigate to, and once finding the information they sought, the user was left hanging, not knowing what action to take next.
How we reignited the spark
Through user journey mapping and the creation of a sitemap with the end user in mind, we embarked on a journey of discovery with the client, working collaboratively to create site wireframes and designs that combined UX and brand that elevated the credibility and sophistication of the Cambridge Spark brand.
HubSpot was the clear CMS of choice here, allowing custom modules to be developed and utilised site wide and also giving the client the freedom to build out their proposition further and easier.