Internal linking is incredibly important for SEO because it shows the relationship between content. Links transfer value and importance between pages and - most importantly - help search engines and users navigate your website.
A good internal linking strategy is an SEO quick win that can massively improve your search rankings. Even though external links generally give more ranking influence and authority, getting internal linking right will have an impact on your search engine rankings.
Here are the basic principles of internal linking:
Links from new content signal fresh content to Google, helping new pages get crawled.

Broadly speaking, the more links a page receives, the more important Google thinks it is.

Linking is so powerful that it can give unparalleled boosts to relatively low value pages, such as 'contact us' pages, because they are frequently linked to across a site. You can see this when a website's 'contact us' page appears on the first page when you search for a particular business.
Internal linking is a great way to boost your domain authority. These are some easy ways to get your internal linking on point:
Create content hubs
You might have heard of the word 'pillar page'. A 'pillar page' is an authoritative page that extensively covers a particular subject. This page links out to other pages around this subject on your site.
The likes of Google have changed their algorithms in recent years to favour topic based content. This approach favours online content that strengthens the site in questions coverage of key subjects and groups related content together. Pillar pages have become SEO specialists' favourite way of linking their domain to a particular subject.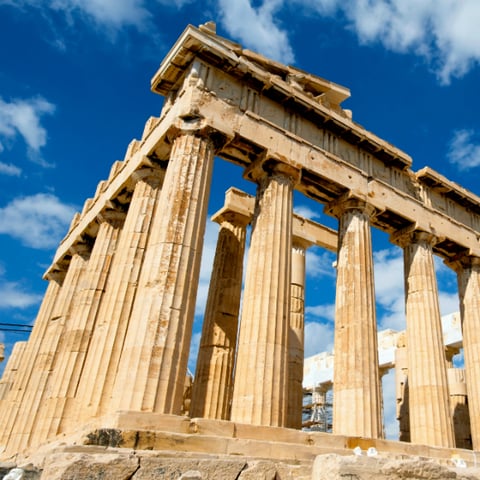 Ever since the Greeks, thought leaders have been creating pillars
The pillar structure signifies that the page is an 'expert' on an overarching topic. Over time, your website will build value with Google around a certain topic. Start thinking in terms of topics rather than keywords.
How can I create a pillar content page?
Find a relevant topic. For example, 'trains'. This topic should tie in with your business's actual service.

Write a long form page with various different sub-sections. Create a contents section with anchor links, so it's easier for users to navigate to the section they want.

Your subsections should relate to your topic. Following our 'trains' example, you could have: 'Electric Trains, Diesel Trains, Sleeper Trains', so on and so forth. To speed things up you could repurpose existing content and use previously unused content around a subject.

Hyperlink. Link to relevant content around this subject as frequently as you can. Aim to bring in a new link every 100-200 words. Note - adding links to pages that have nothing/very little to do with the subject of your subsection will actually harm its search engine performance.

You can add various CTAs on the page. These can encourage the user to download the page as a PDF, or link to other primary content that they will be willing to give their email address for.
Not only should your pillar page rank well - the internal link structure from this page will distribute the authority gained by this page across the pages it links to. On top of all this, plenty of links will also improve your webpage's click through rate and it shows your authority on a particular subject, putting yourself in front of your audience.
Reduce your page depth
In June 2018, John Mueller, a Senior Webmaster Trends Analyst at Google, indicated in a webmaster Q&A that click depth matters in SEO. This relates to the number of clicks required to reach a page when starting from the website's homepage.
In the past, it was thought that the number of slashes in a URL mattered for SEO. Mueller said that this isn't considered by Google's algorithms - just the click depth.
This is good news for those of us after some easy SEO quick wins (i.e. every digital marketer), especially if your site has a complex, 'deep' structure. Here are some easy steps you can take to reduce your click depths and reap the rewards of some easy internal linking changes:
Increase the number of recommended pages that appear on 'customer facing' pages, like product pages or job pages. This is an easy way of increasing internal links within a category or between related categories.

Reduce the number of pages within a categories listing. There are two ways of doing this - increase the number of items per page or increase the number of high-level categories in your website's structure.
Reducing your click depth means that your pages will be crawled in a shorter amount of time and it will be easier for users to find them. A win win situation.
Here's some more bitesize lessons to apply when it comes to internal linking.
Use different anchor text for every link
You should avoid using the same anchor text for two links that direct to two different pages. For instance, you might have the anchor text 'accessories' that leads to a page about handbags. Later on in the page, you might use the same anchor text 'accessories' that leads to a page about sunglasses.
Avoid doing this. It creates competition between two of your pages. You should try to standardise these links or canonicalise them.
Don't stuff your navigation bar/footers with internal links
Google's algorithms penalise pages that fill the footer with anchor text rich links in order to boost their search engine ranking. Google sees this as a manipulative SEO tactic and subsequently penalises it.
The relevance of your linking
If you link between irrelevant pages, search engines will penalise you because they can pick up that your linking lacks context. Ensure that your linking makes sense or be prepared to face the wrath of Google's ranking penalisation.
If no one clicks on a link, Google's all-seeing crawlers will find out. They will think it isn't relevant or useful.
The importance of the page you're linking from
If you have a page that Google values highly - it has lots of external links pointing to it, for example - this page will be able to generate a little bit of ranking power by linking to other pages on your website. You should use your higher ranking pages to boost your lower ranking ones that a) are useful to users and relevant and b) need a bit more authority.
The type of link
HTML link format trumps all. Although Google can follow JavaScript, these links are not treated with so much authority and ranking influence according to research from Moz. So make sure that you create your links in HTML. If you choose to create image links, make sure that the alt attribute of that image becomes the anchor text of that link.
Don't have any orphan pages
Orphan pages are pages that have no incoming internal links. This means they're unlikely to be crawled by search engines. Also, users who haven't memorised the URL won't be able to access them. Make sure that all your pages have links to and from them and this won't happen.
Key SEO takeaways
Internal linking is a great way to not only increase a page's SEO power but also, done right, to increase the value your users get from your site. Just remember to make your linking structure clear, relevant and informative. Place the user at the centre of your internal linking strategy and you are giving yourself the best possible chance of receiving some form of SEO boost.
There's much more to SEO than internal linking and as you go deeper, things can get complicated fast. Not only does the Karman Digital team include some genuine SEO wizards, we're also experts in coordinating digital marketing campaigns that really deliver growth. If it sounds like we could help you, contacting us is as easy as opening that chat window at the bottom right of your screen and writing a message.