Learndirect is the UK's leading provider of online courses dedicated to transforming lives through education. Offering a wide range of online courses, the beginning of the Covid-19 pandemic, and the first national lockdown created a significant increase in people signing up, eager to take advantage of online learning. But that increase in volume, exciting as it was, created challenges for their existing teams.

The work that Karman did for us really enabled us to scale and better serve our customers.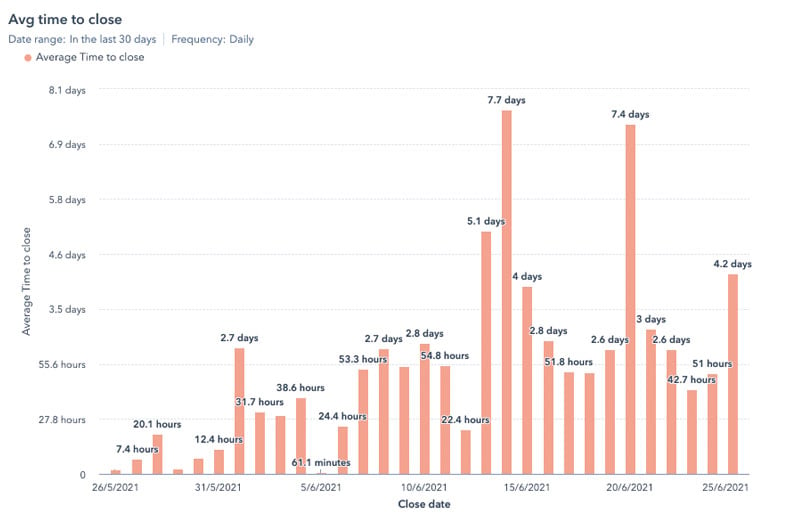 0
average time it takes to close tickets has reduced by 48%
What were the challenges?
Initially engaging us to streamline their sales process by introducing automation and self-serve conversion opportunities, Learndirect challenged us to implement a new way of serving their influx of new customers.

The customer service and support processes in place at the time were on the cusp of being overwhelmed. This was accentuated as the sales automation work was converting increasing numbers of learners.
The challenges in customer service included:
Time to respond
The time required to respond to tickets began to increase as the customer base grew.
Number of responses required to close tickets
The frequency of contact required to close tickets introduced friction to the relationship.
Customer service reporting and insight
Learndirect were unable to measure service outputs and make data-driven decisions about it.
Tackling their priorities and needs meant restructuring the way Learndirect visualised customer support.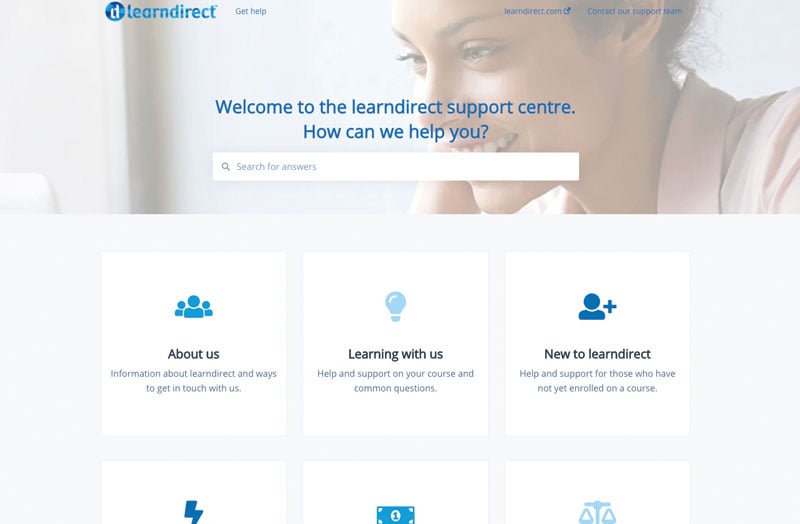 0
average number of times customer support was contacted to resolve a ticket has reduced by 26%
Learndirect was early in its HubSpot journey when this challenge arose. Previously the virtual education organisation had only used tools to accelerate and automate their sales processes, but they trusted the Karman Digital team to plan and deploy the right software tools and training to address the challenges.
To implement the solutions necessary for Learndirect, onboarding HubSpot Service Hub was a clear priority. It would equip them with the foundation necessary to begin building a better service experience.
Building a Knowledge Base
As the primary method of transforming Learndirect's service team, we implemented chatbots and a Knowledge Base to provide customer self-service opportunities and reduce the number of queries coming into the customer support team.
To ensure this was successful, the customer experience needed to remain front and centre of the planning.
We worked with the team to create a home for answers to all of the frequently asked questions and concerns their customers might have. Once those questions were gathered, we mapped out the user journey and created a clearly laid out home page for the Learndirect Support Centre, containing only a search bar and the main categories of questions. Within each category, there were click-through options to find all of the relevant queries.
This hierarchical organisation created a simple and dynamic user experience to empower customers to find answers before reaching out to the support team.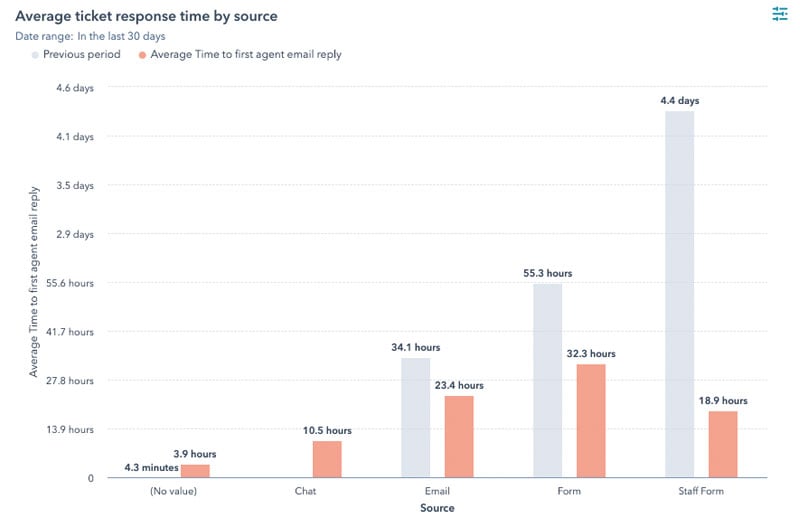 0
average time to reply has reduced by 41% compared to the previous quarter
Survey says…
In addition to alleviating strain through a Knowledge Base, Learndirect needed a method for understanding and reporting on customer support KPIs and response efficacy.
As a starting point, we used HubSpot's robust reporting dashboards to make a clear and easy-to-use space for Learndirect to begin better monitoring the success of their customer support team. The ability to create a more meaningful reporting system provided Learndirect with the visibility necessary to track both team and individual performance in addition to identifying bottlenecks and enabling process improvement.
Building out multiple dashboards was an important part of giving the team the necessary tools to improve customer experience. In addition, HubSpot was used to implement and automate both Net Promoter Score (NPS) and Customer Satisfaction (CSAT) surveys, gaining valuable insight into how customers felt about the brand and their experience.
Results
The launch of Learndirect's Service Hub solution has yielded a better supported customer service team who, in turn, are better supporting customers. As the business continues growing rapidly, the customer support team have made significant strides in delivering a first class customer support experience.
In the quarter after implementation:
The average number of times customer support was contacted to resolve a ticket has reduced by 26%.
The average time it takes to close tickets has reduced by 48%, compared to the previous 3 month period.
The average time to reply has reduced by 41% compared to the previous quarter.
Over 5,000 customer feedback surveys have been sent out.
In just 3 months, Learndirect transformed their customer service team from disjointed and overwhelmed to streamlined, modern and accountable.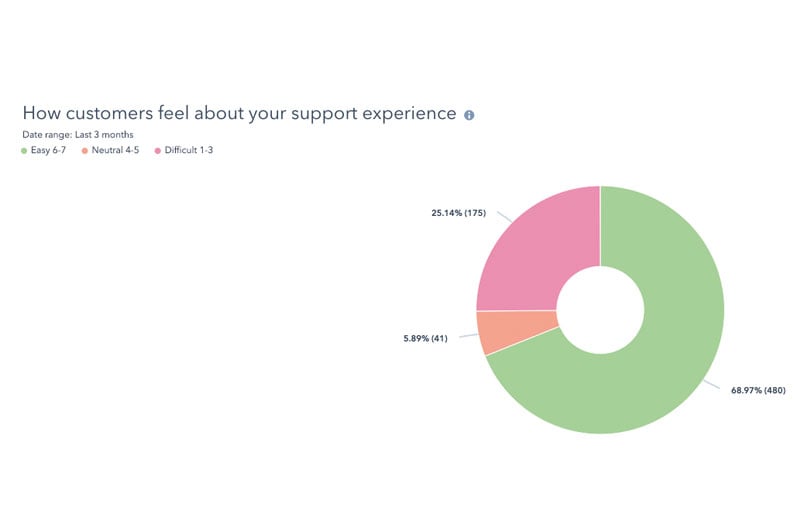 0
over 5,000 customer feedback surveys have been sent out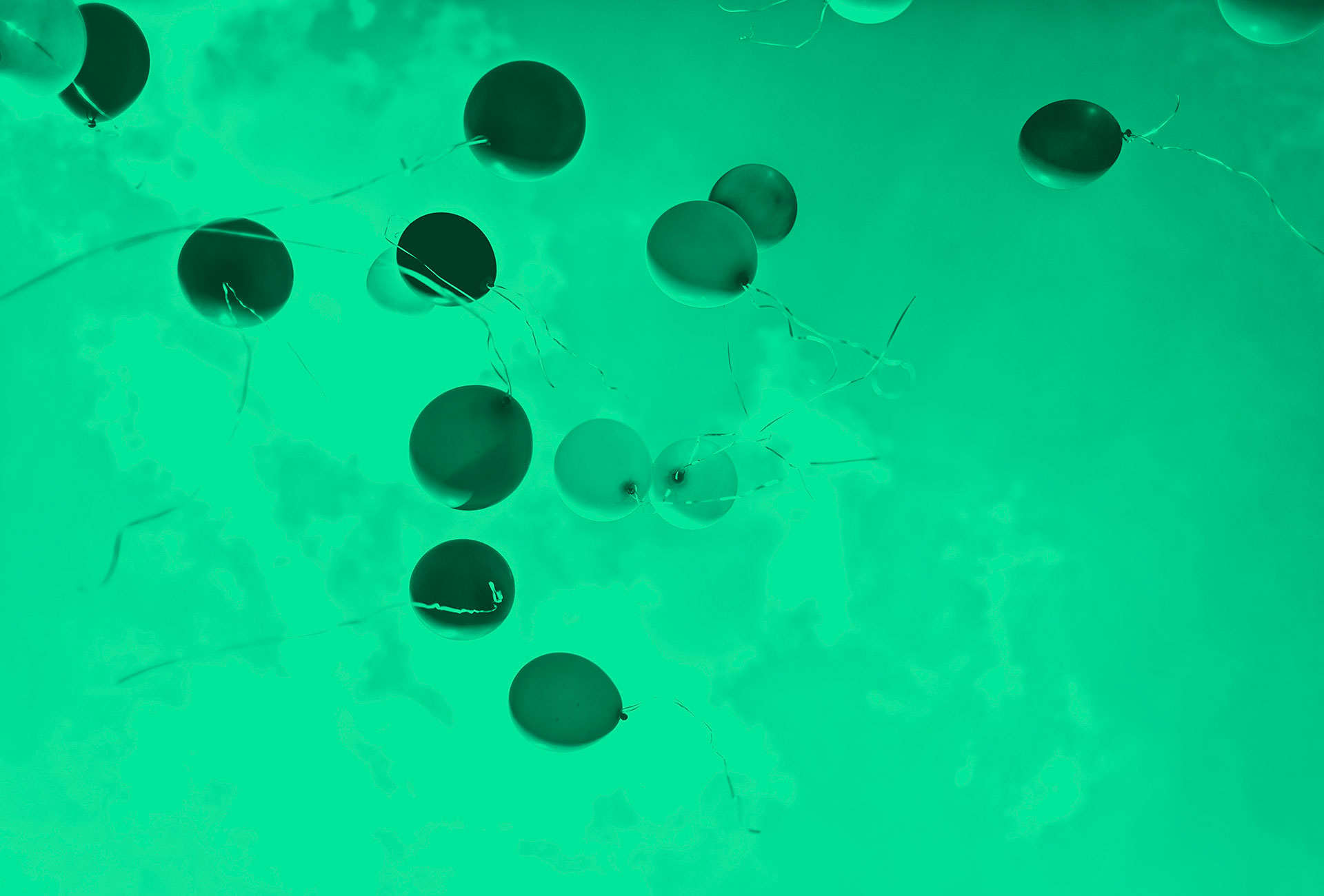 Karman Digital has realised our digital transformation goals and amplified the success of our business. Working with them on our service team, as well as our sales process, we've gained a great deal of insight into our clients' needs and how best to help them.
Our customer support team feels more streamlined, is better able to answer queries and aren't inundated by frequently asked questions thanks to the Knowledge Base.
If you are looking for ways to enable scalability without sacrificing quality, Karman Digital and HubSpot are a winning combination.