Getting Active on
the HubSpot CMS
Active have over 20 years' experience in delivering IT and telecommunications solutions to over 700 SME businesses throughout the UK, providing tailored, streamlined support and technical advice. However, the brand was beginning to look tired and the current website was starting to look outdated, disjointed and cluttered - a world away from portraying their professional, expert service.

Having worked with Karman Digital previously, they were our first port of call when we needed support for creating a new website for Active.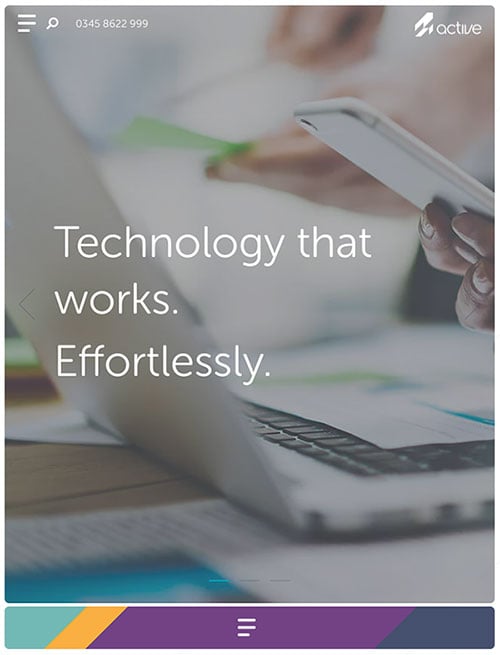 Creating an engaging user experience
It was clear from the outset that HubSpot was the right choice for Active; it would give the internal marketing team the freedom and future flexibility to build out the website using the drag and drop editor, without compromising on consistency or the risk of additional elements not looking part of the overall site design.
In conjunction with a rebranding exercise Active were undertaking, we worked collaboratively with the client to create layouts with the user in mind; ensuring that Active's core service offerings were easily navigable, content was easy to digest, and that the user journey was efficient yet memorable.
Having moved their previous website from Wordpress to HubSpot to take advantage of tools within the CMS, Active were familiar with the ease of use of the CMS and were therefore advocates of developing their new-look site on it, launching their new brand on the platform in Summer 2021. New modules were developed alongside the existing, to further enhance the flexibility of future page development by the client, giving them greater control and a library of assets to fall back on.
Alongside this, HubDB was utilised to capture Active's client testimonials, giving them the flexibility to grow this part of the site as well as allow testimonial modules to be placed in relevant places sitewide, relevant to the page content.
Keep Active, keep improving
In the first two months since going live, the average time on the site increased 22% and web conversions more than tripled compared to the same period in the previous year.
0
increase in average time on site